2022 Connections Campaign
WHO'S IN YOUR TEAM?
In 2022 Street Soccer Academy are asking their supporters to 'Connect to help others connect'.
We are asking our supporters to get creative, get together (connect) with friends, family, work colleagues (your team) to raise funds on our behalf in whatever way your group would like. The choice is yours, from bike rides & long-distance running to coffee mornings and cake sales, all funds raised will go towards the SSA Connections Centre, which helps isolated individuals establish the vital connections in community that we all need.
Your Event – Go Get the Team Together
Please feel free to raise funds in whatever way you wish. In recent years we have seen supporters undertake various fundraising challenges to support our work, either in teams or as an individual. After your event the funds you receive can then be donated directly to our 2022 Connections Campaign Page by clicking here
Dedicated Fundraising Page
If you or your company would like to make a more concerted effort to raise funds for the 2022 Connections Campaign we can set up a dedicated fundraising page, via the Charities Aid Foundation fundraising platform, which will show your company logo or your profile picture and a specific target for your fundraising. Once created you will then be able to forward a link to your giving page via email or social media to publicise your fundraising efforts. This could be used as a team building exercise for your staff or a way of getting your friends and family together, whilst raising funds for a great cause.
To discuss your event idea and to set up your dedicated fundraising page please call Simon Murphy on 07804 492 475 or email your name and contact details to sm@streetsocceracademy.co.uk
What you will be supporting
Above all else the one thing the Covid-19 pandemic and specifically the periods of lockdown taught us all is the value of human interaction. Those moments in our everyday life, that we all probably take for granted, that make our very existence manageable. For most of us these connections exist throughout the many layers of our lives, whether it's the very intimate interaction we enjoy with our close family and friends or the more professional exchange that exists with work colleagues or business contacts. It is clear that these connections are not only essential in us effectively going about our daily lives but also in maintaining a healthy state of wellbeing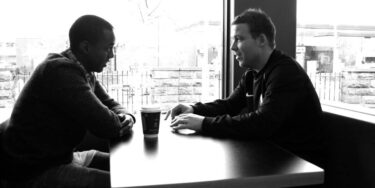 At Street Soccer Academy we work with individuals, referred onto our programmes from a number of welfare agencies, generally classified as having complex and multiple needs. We help individuals work through issues related to homelessness, physical & mental health problems, unemployment and learning needs. The complexity of these needs sees our service users classified, in the main, as 'hardest to reach' by many other agencies. For most of our beneficiaries essential connections are either non-existent or dysfunctional due to the effects of personal needs and result in detachment from mainstream society and problems with isolation.
Beneficiaries are referred onto our programmes by welfare agencies across our region, such as, The NHS, accommodation providers, Job Centre+ and community projects. Once referred our beneficiaries engage in a Coach Education & Personal Development Programme based around learning basic life and work-related skills. The use of football coaching as the basis of our programmes means we have an attractive method of engagement and retention, allowing us to incentivise learning and development.
We are a UK registered charity and an FA Charter Standard Football Club, meaning that our programmes are delivered by fully qualified and vetted staff. As with many sports clubs the involvement in team sports allows meaningful relationships to develop and positions of trust to be established between service users, staff and volunteers. It is from these relationships that we are able to work with our beneficiaries to try and address the needs that hold them back from achieving their full potential in life.
To assist in our efforts to help our beneficiaries combat the causes of isolation and defeat loneliness we operate a number of services collectively known as the SSA Connections Centre. Through this facility beneficiaries can discuss with us any of their current needs. In turn we will look at ways our beneficiaries can access appropriate help, from our network of partner agencies, to address these needs. Help may be in the form of directing to appropriate services, assistance with form filling, online research, initial telephone enquiry or in some cases, purely a listening ear. As with all our work in this area appropriate action planning is put in place with timescales for review and follow-up agreed to ensure satisfactory outcomes are achieved.
Donations to the 2022 Connections Campaign will help SSA to continue to offer this service.
What Do We Hope to Achieve
For many of our beneficiaries the complexity of their needs often results in loss of confidence and any hope that the lifestyle they desire can ever be achieved. Through our Connections Centre we hope to see confidence restored through the systematic working though of issues, ultimately seeing individuals establishing for themselves sustainable lifestyles and realising their full potential. In achieving this we believe we will see isolation and loneliness defeated as individuals establish for themselves contacts in community to help maintain healthy and fulfilling lifestyles.
STREET SOCCER ACADEMY
deliveringEXCELLENCE, generatingHOPE, providing

DIGNITY

, fuelling

AMBITION