delivering EXCELLENCE

generating HOPE

providing DIGNITY

fuelling AMBITION
For over a decade Street Soccer Academy has a track record of providing programmes to assist in the rehabilitation and resettlement of offenders, partnering with a number of agencies in the prison and probation services. (Current partners include Novus Cambria and Sodexo Justice Services). The charity's programmes are tailormade to provide those caught up in criminal and anti-social behaviour an opportunity to change attitudes, learn new skills and establish for themselves sustainable lifestyles. In essence, helping individuals reach their full potential.
Services offered range from referral partnership, whereby agencies can refer eligible clients onto our community-based programmes, to contract-based full-time education & personal development programmes, working with offenders during custody and through the gate on release.
Programmes
Our Personal Development Programme offers a unique method of effecting long-term positive change in the lives of participants. Topics are introduced through non-threatening football-based analogies in order to prompt and encourage group discussion which leads to conversations along the lines of prevalent personal life issues in relation to the topic.
The Personal Development Programme can be delivered as a stand-alone programme, alongside the SSA Coach Education Programme or any of our partners internal work-skills, industries or education programmes. Our experience suggests running the Personal Development Programme alongside our football-based Coach Education Programme provides the best incentive to engage and learn.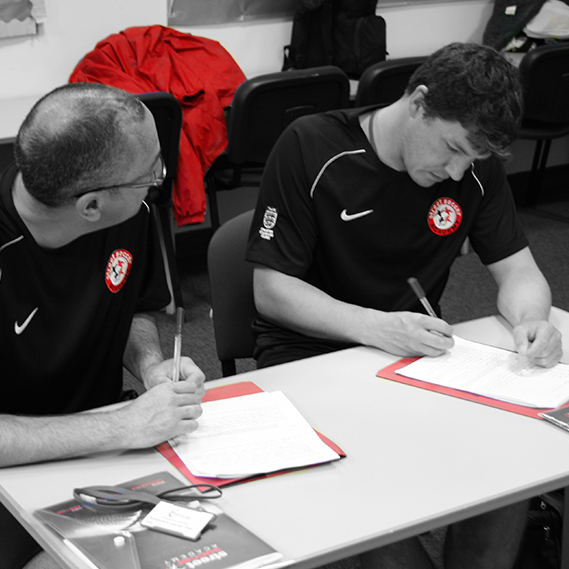 Course Topics include
Action Planning and Analysis
Effective Communication
Conflict Resolution
Mental Health Awareness
Enquiries
Any agencies wishing to discuss a partnership with us should contact SSA HQ or complete the contact form below.
We have a long tradition of forming strong and successful partnerships with some of the very best organisations in the criminal justice sphere. Our work with Street Soccer Academy is one of our key strategic partnerships for the development of national solutions to reducing reoffending.

Trevor Shortt - HMP Forest Bank Director

We are delighted with the progression DD has made out in the community over the past 18 months. We had worked with him on the Eden Unit at HMP Forest Bank during an intensive period knowing he had a history of serious drug abuse and broken family relations. We recently visited him at a Street Soccer Academy regional centre in the community and to see him with his partner and child, dressed smartly for work and evidently thriving in life gave the team and I huge satisfaction. It was an emotional day.

Sharon Berry - HMP Forest Bank Recovery Manager

We hope that all the continuing hard work with these communities and individuals continues into the future and that we can help them to push the boundaries into other hard to reach groups.

Manchester FA's Social Inclusion Officer